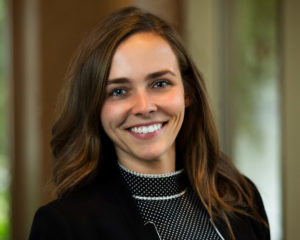 The Women's Fund of Greater La Crosse is pleased to introduce our new Executive Director Kaycie Green. Kaycie brings enthusiasm and experience with nonprofits including Main Street Alliance of Vermont and Planned Parenthood of Northern New England to the Fund. With a degree in public relations from Syracuse University, Kaycie is looking forward to telling women's stories. She is committed to making a difference for women in our community because she has seen in her own family the impact it can have.
What are you most excited about in your new position?
It's very exciting to be joining the Women's Fund in its 20th year. I'm looking forward to spreading the word about the amazing work the Women's Fund does to support women and children in our community. I'm excited to work with the board, supporters and community partners to ensure the organization's success for another 20 years and beyond.
Favorite color?
Pink and orange 😉
Favorite recreational activity?
I enjoy hiking with my dog, Hunter.
In your opinion, what is one of the greatest challenges facing women and girls today?
I think the recent reawakening of popular conversation about women's rights is incredibly important. I am inspired by women across the country who are making their voices heard, especially those speaking out about harassment in the workplace. I hope the conversation continues to evolve and influence action that improves outcomes for ALL women and girls. I think the greatest challenge will be to keep the up the momentum when it feels like progress is unattainable.
What genre of music do you enjoy listening to?
Indie/alternative
Favorite book?
I am currently reading Somewhere Inside, the book by our Fall Luncheon speaker, Laura Ling, and her sister Lisa. I love that the book switches back and forth between the two sisters, so you are getting the full story as it's unfolding. I highly recommend reading the book and coming to the Fall Luncheon on October 18!
I love memoirs, especially when they are about women making space for themselves and other women. I recently finished Make Trouble by Cecile Richards. Cecile's story about her work and her life is inspiring. I particularly appreciated what she shared about her relationship with her mom, Ann Richards, former Governor of Texas.
Greatest Role model?
I am constantly inspired by my mom, who has overcome seemingly impossible hardship to create incredible opportunities for her own children and others through her work in education.
What do you like about working for non-profits?
I like being able to do work that has a direct impact on my local community.
Favorite thing about our community?
This community loves to have a good time. It seems like every weekend there is a festival or event. I love the spirit and energy that comes along with that.
What is the most interesting thing about the Women's Fund that you've learned so far?
I appreciate that the Women's Fund goes beyond the grant application to understand the work of organizations it supports. The women behind this organization are truly devoted to the mission.